DORNOCH ON THE NC500 
Dornoch is located centrally on the eastern coast of the NC500.
We are connected to the far north, west and south west by a vast selection of routes .  This makes Pitgrudy Holiday Park the perfect base to explore the whole of the NC500, with a wide selection of self catering accommodation and links to the whole route on our doorstep.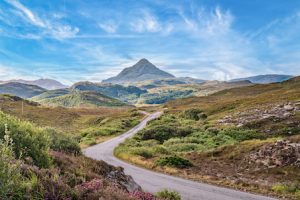 Using a single base to explore the NC500 has many advantages – saving time on packing and unpacking, checking in and out and driving round, trying to find your next over night stay.  A single base gives you more time for driving and visiting attractions.  You will also not feel like you need to rush to get to a certain point by a certain time and can go off piste if you wish to do so.  You will be surprised by how many times you want to stop out of the blue just to take in the absolute beauty that is our Scottish Highlands.
"Pitgrudy Holiday Park is a beautiful place.  We used it as a base to drive the North Coast 500 and everything about it was perfect" – Craig Walker (5/5 google review) 
The Highlands of Scotland have been described as the most beautiful place on earth, is there really any other reason to come and visit?  The North Coast 500 was first marketed in 2014 and in just a few years it has gained international acclaim as one of the best driving routes in the world.  It is a 500 mile circuit that starts and ends in the Highland Capital of Inverness.  The route then circumnavigates the most northerly part of mainland UK.
"The sky was the colour of a Norwegian model's eyes. Tendrils of cloud spilt over snow-capped mountains before being whipped into nothing by the wind.  Past turquoise water like you find in the Maldives and islands as weird and as enticing as those in Ha Long Bay. This was, and I will take no argument on the matter, by far the most beautiful place on Earth. As far removed from anything we have in England as Timbuktu." – Jeremy Clarkson on his driving experience of the NC500