GOLF IN DORNOCH
Royal Dornoch Golf Course is one of the most outstanding Golf Courses in the whole World and we are lucky enough to have it on our doorstep.
Our close proximity to Royal Dornoch makes Pitgrudy Holiday Park the perfect destination for Golfers to stay during their time here in Dornoch.  We have a wide range of fantastic self catering accommodation to suit every golfer's need, which is why so many choose to come from near and far to stay with us.
"My wife and I spent 3 nights here at Pitgrudy Holiday Park, great base for walking and playing golf, plenty of good courses nearby. Accommodation was excellent, comfortable, well equipped and of a high standard" – Brian (booking.com)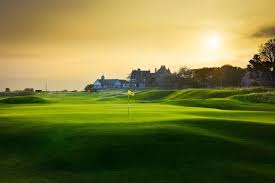 Royal Dornoch is spellbinding and many golfers from all over the world make the pilgrimage to this natural links at some point in their lives.  It is often quoted as one of the must-play courses.  It is the timeless setting that makes Royal Dornoch such a pleasing place to play golf.  It's wild, isolated and at the same time, absolutely beautiful.  There is the blaze of colour in early summer when the gorse is in flower.  The pure white sandy beach divides the links from the Dornoch Firth and it ll feels very humbling.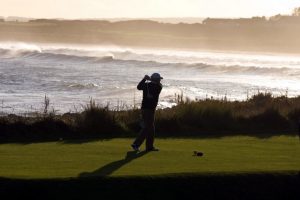 The curving bay of the Dornoch Firth and its magnificent white broad beaches are backed by a narrow strip of softly contoured dune land rising in two distinctive levels, providing just enough room for parallel fairways. The ridges, hillocks, dunes and undulating links land have all the characters of the best of links courses, and most of the difficulties. The first eight holes follow the ridge and the remaining ten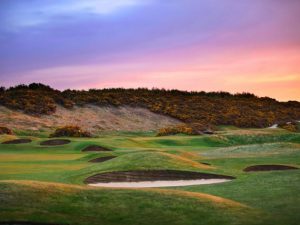 holes played in the opposite direction are bounded, except the 17th and 18th on the left by the sandy beaches of the firth."This course, club, and location is outstanding in every way" – Steve T (trip advisor)
Visitor rates:
Single round- £130 (May to September) £120 (April & October) £65 (November to March)
Day Ticket- £210 ( May to September) £190 (April & October)
"RDGC is probably the best course in Scotland on the Cooks Tour of the Home of Golf fabulous views of sea sky and mountains, rolling fairways and huge greens–as someone said God invented golf then laid out Dornoch to play it on!" – email961 (tripadvisor)