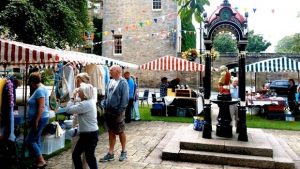 About Community Markets
Regular Community Market days for 2019 are Wednesdays 8th May, 12th June, 26th June, 10th July, 24th July, 14th August, 28th August and 11th September.
The market runs from 9:30 am to 1 pm on the Cathedral Green. Come and browse up to 30 stalls with homegrown produce, plants, arts & crafts, baking, artisan bread, specialist chocolates, cheese, handmade cosmetics,  jewellery, gifts & clothing.