Are you looking for self catering accommodation in Dornoch?
Are you looking for peace and quiet in a countryside setting?
Well look no further as your Scottish holiday can start here at Pitgrudy Holiday Park.  We offer a wide range of beautifully modern and spotlessly clean holiday rentals which will ensure your stay with us is as relaxed and enjoyable as possible.  Our holiday lettings service has gained a reputation for being 'helpful' and 'friendly' and the accommodation we provide as being 'the cleanest ever stayed in'.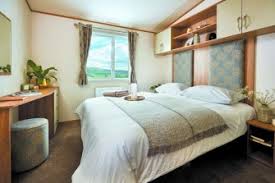 "We had the most wonderful time here – thank you so much.  This is the cleanest accommodation that we have ever stayed in.  Everything was spotless" – Noelle O'Neill, December 2018
"Stunning, a perfect little Park, would definitely come back again.  The views are amazing" – Tanya-nicole Hall, January 2019
"Simply beautiful and Peaceful" – Janet Smith, January 2019
"Had a fantastic week up here. Stayed in 31 wonderful chalet /caravan equipped with everything you could need.
The park itself is clean and immaculately kept. If your looking for peace and quiet this is the place to be. We were told by locals we picked the best caravan park and we have to agree."– Sandra Mcdermott, September 2017
-Please note that all bedding is provided but towels are not.  All our holiday rentals come with a decking area and patio furniture to sit out on, to relax and enjoy the breathtaking views out over the Dornoch Firth.
Our range of self catering accommodation below:
2 BEDROOMS
2 SHOWERS (main and master ensuite)
LUXURIOUSLY LARGE MASTER BEDROOM WITH KINGSIZE BED AND WALK IN WARDROBE
PATIO DOORS OUT ONTO LARGE DECKING AREA WITH UNSPOILT VIEWS
HUGE FULLY INTEGRATED KITCHEN WITH DISHWASHER AND ALL MOD CONS
SMALL/MEDIUM DOGS ONLY
NO SMOKING
FROM £60 PER NIGHT (minimum 3 nights)
SLEEPS 4 MAXIMUM
THE OAKLEY COUNTRY RETREAT
2 BEDROOMS (MASTER EN SUITE TOILET)
LARGE OPEN PLAN LIVING ROOM WITH PATIO DOORS OUT ONTO DECKING AREA
LARGE DECKING AREA WITH PATIO FURNITURE 
FULLY FITTED MODERN KITCHEN AND DINING AREA
SLEEPS 4 MAXIMUM
NO PETS
NO SMOKING
FROM £50 PER NIGHT (minimum 3 nights)
THE DRIFTWOOD
2 BEDROOMS – MASTER EN-SUITE WITH BATH
LARGE OPEN PLAN LIVING AREA WITH PATIO DOORS OUT ONTO LARGE DECKING AREA
HUGE KITCHEN WITH ALL MOD CONS
PATIO FURNITURE AND SEA VIEWS
2 BATHROOMS – 1 SHOWER AND 1 SEPARATE BATH/SHOWER
SLEEPS 4 MAXIMUM
FROM £60 PER NIGHT
NO PETS/NO SMOKING
THE HIGHLAND RETREAT
2 BEDROOMS (MASTER EN SUITE TOILET)
LARGE LIVING ROOM WITH ALL COMFORTS OF HOME
LARGE DECKING AREA WITH PATIO FURNITURE AND SEA VIEWS
OPEN PLAN DINING AND FULLY FITTED MODERN KITCHEN
SLEEPS 4 MAXIMUM
NO PETS
NO SMOKING
£55 PER NIGHT april – september (minimum 3 nights)
£45 PER NIGHT october – march (minimum 3 nights)
2 BEDROOMS
LARGE MASTER BEDROOM WITH ENSUITE TOILET
FRONT PATIO DOORS OUT ONTO LARGE DECKING AREA WITH FURNITURE
MODERN, FULLY INTEGRATED LARGE KITCHEN
NO SMOKING
PETS ALLOWED
FROM £60 PER NIGHT (MINIMUM STAY 3 NIGHTS)
SLEEPS 4 MAXIMUM
THE ASHCROFT
2 BEDROOMS (MASTER EN SUITE TOILET)
OPEN PLAN LIVING ROOM WITH SLIDING DOORS OUT ONTO VERANDA WITH PATIO FURNITURE
FULLY FITTED MODERN KITCHEN AND DINING AREA
SLEEPS 4 MAXIMUM
NO PETS
NO SMOKING
FROM £50 PER NIGHT (minimum 3 nights)
You need to add a widget, row, or prebuilt layout before you'll see anything here. 🙂
You need to add a widget, row, or prebuilt layout before you'll see anything here. 🙂